ABOUT EPDC PRESIDENT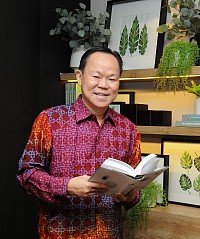 Dr. Po - the familiar name of Dr. Dr. (H.C.) Ponijan Liaw, M.Pd., CSM® - was born in Tebingtinggi, North Sumatera on September 5, 1968.

EDUCATIONAL BACKGROUND
Drs. in English Literature (IKIP Medan/1993)
MBA in Marketing Communication (Australia/1996)
M.Pd. in Education Management (UPH, Jakarta/2004)
Dr./Ph.D. in Government Management/Communication (Satyagama, Jakarta/2009)
Lemhannas Graduate (2014)





PROFESSIONAL BACKGROUND

President of EPDC (The Energetic People 

Development Center) - 2003 - now

Communicator/Motivator - 2000 - now
Binus University Lecturer - 1997 - now


AWARDS RECEIVED

First Author on Zen Comics from MURI (2008)
Best Teaching Award as a Lecturer from Binus University (2014)
First Motivator on Plane & Bus from MURI (2016)
#1 Communicator of Asia from Asia Book of Records, India (2017)
The Most Influential Leader of Asia, World Records Union, Vietnam (2019)

DR. PO'S WORKS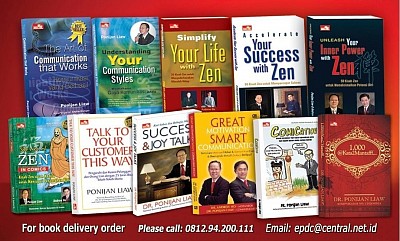 11 books (Gramedia & ElexMedia Komputindo).
8 Compact Discs (CD) on Communication & Life Development.
100s Articles in Newspapers & Magazines.
DR. PO'S QUOTES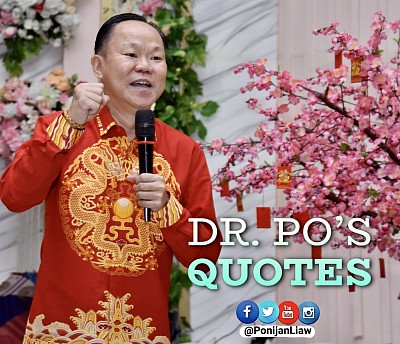 Jaga mulut agar tidak muncul kemelut.
KESEHATAN tergantung dari apa yang masuk ke dalam mulut dan KESUKSESAN tergantung dari apa yang keluar dari mulut.
Setiap orang memiliki masa jaya masing-masing.

Sahabat sejati akan menghiburmu di kala semua orang mencela & menertawakanmu.

Jika hati selalu RIANG, hal yang berat pun akan terasa RINGAN.

Jika belum bisa berbuat BAIK, minimal jangan MENYUSAHKAN orang lain.